AI and Learning Engines
Artificial intelligence is taking over call centers. Are you ready to transform your customer interactions and improve engagement with the AI and learning engine features of next4biz?
Technology is transforming the way we interact with the world, from artificial intelligence (AI), big data, machine learning, learning engines, and deep learning (deep neural networks) to cognitive computing, chatbots, natural language processing, and many more. Believe it or not, these tech trends are now changing the way we live, communicate, buy and work.
Customer support services have also changed. Recent advancements in this particular field of AI are impacting the entire marketing and customer service landscape. AI-driven customer service technologies can actually learn from your company's historic data by using machine learning. The AI-powered next4biz system offers such technology to deliver a more personalized and better way of interacting with your customers.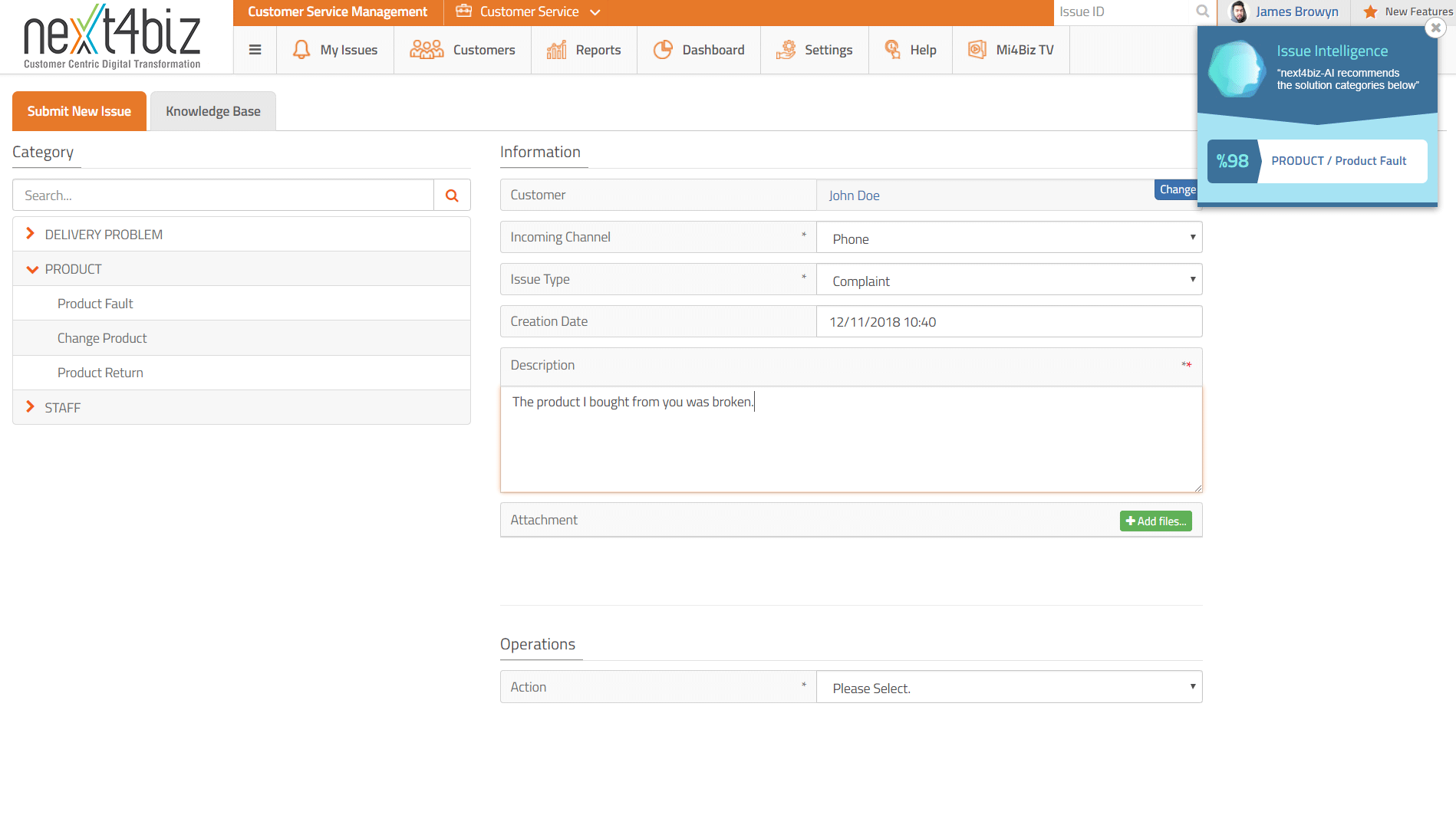 How to use the AI and Learning Engine features
The AI-based next4biz technology offers an easy-to-use customer service management solution. The user-friendly system transforms customer experiences across all channels, devices, and touchpoints into knowledge base items. You can build and train your own machine learning models that can work on any type of data. After next4biz has learned enough from your user experiences, it will predict the issue category and select the correct workflow so that the issue is forwarded to the relevant department or person automatically. With the power of the learning engine, next4biz provides an easy-to-use customer service management system for sustainable customer satisfaction.
What are the benefits of the next4biz AI and Learning Engine?
In the digital world, customers' voices have never been louder. Listen to them with the AI and Learning Engine features of next4biz if you want to help your company become more successful and competitive. With these features, you can create distinctive customer experiences and improve your overall call center performance.
next4biz's New Generation Call Center Agents Can:
Categorize notifications automatically based on their contents and assign them to the relevant workflow and categorization
Learn from your current data or past usage
Receive and respond to chats, emails, social media channels, and complaint websites
Keep customers informed via email and text messages
Send text or email reminders in case there are delays in their issues
Process tens of thousands of issues per minute
next4biz's AI and learning engine features increase employee engagement, reduce costs, improve efficiency, transform customer interactions, and improve the customer experience in your organization. You can deliver exceptional conversational support solutions across multiple channels, boost sales and reduce customer acquisition costs with next4biz!
How can I get started?
To learn more about the next4biz system and its features, contact us.