Aligning customer service with changing requirements
When we need to make a decision on certain aspects of our business, we simply sit down together and amend/arrange the forms or processes according to our needs. Doing all this without IT support is amazing.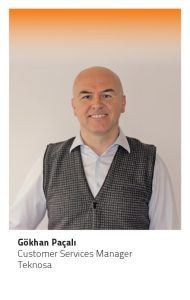 We had a talk with Gökhan Paçalı, Customer Services Manager at Teknosa, and we talked about a variety of topics including Teknosa's choice next4biz over their current system. In addition, we talked about the changes that next4biz has brought to Teknosa, their integration processes, and how they keep up with changes without IT support. He will also be offering us his precious opinions on our agent scripting feature. Have a great read!
1- What are the reasons behind Teknosa's decision to use next4biz?
Teknosa has approximately 300 stores, 500 central office employees, and 6 outsource call centers, all of which are operated by Teknosa personnel. We have established our system and integrated it within a big structure. However, we were experiencing maintenance, support, and structural issues with our built-in systems and customer relations management (CRM) software. We had no efficient time management mechanisms put in place, and we were experiencing budgetary problems in our IT department and maintenance units. We had no readily available support mechanisms to resort to, or they simply just took too long to arrive. With all of these factors coupled together, we were forced to look for more innovative methods of customer management. When we saw that the cloud system was based on renting, rather than investment, we decided that was the way forward for us. We were already holding negotiations with next4biz, so, we then decided to renovate our infrastructure and move ahead with next4biz because it is an integrated system that is fully compatible with our new infrastructure.
2- Have you integrated next4biz into your existing systems? What have been the primary benefits of these integrations?
Of course. Most of the calls to our call center relate to complaints or demands placed by our customers. Therefore, we usually need customer details to handle inquiries efficiently. This is especially true if the customer inquiry is related to a belated refund request or product service issue, or if the customer has contacted the store one way or another. We have initiated the next4biz integration process in that regard and it is working seamlessly. We can reach all the details about our customers and next4biz is working hand in hand with our existing systems
We don't experience any difficulties. This is especially beneficial for our employees at the call center because they are now able to respond to all sorts of customer queries much more quickly than before. Customer issue management is conducted from a single center and, in addition, we can view the entire correspondence history of our customers there. The configurable escalation chain of next4biz allows us to tackle all issues with high efficiency, canceling out any risk of errors or oversights.
3- In what ways have you benefited from next4biz's rather practical feature that allows users to pre-design resolution processes required for all categories and customer demands?
We sought to analyze all incoming customer messages, and track and measure them using specific process management tools. The features of next4biz helped us to achieve this. The ease with which it allows us to prepare form designs, which are essentially measurable and scalable has been especially helpful. The best part was being able to sit down with my team and design the forms according to our own business requirements. What we especially found amazing about the software was that it allowed us to set up our own admin structure and put our professional competencies to use without any external IT support whatsoever. Fully utilizing the competencies of our own team reduced our dependency on IT and allowed us to get quick results. For instance, when we experience an issue during the day or when we need to make a decision on certain aspects of our business, we simply sit down together and amend/arrange the forms according to our needs. As I mentioned, doing all of this without the need for IT support is the icing on the cake.
In the meantime, we have also begun to use next4biz to manage issues other than customer inquiries. For instance, we've implemented a new structure called TeknoGaranti, where we opened a new work channel using next4biz to track incoming requests and provide our stores with support in handling customer issues. We have also used it to manage refund issues that require cooperative work between our head office and the stores via e-mail correspondence. next4biz has allowed us to get rid of the impracticality of handling issues via lengthy and time-consuming e-mail correspondences and replace it with a more efficient system that stands up to scrutiny.
While doing all of this, we have benefited immensely from the support of the next4biz team. They were such an enthusiastic group of professionals who gave us a detailed run-through of all the processes. We found this especially welcoming, as that introductory presentation had a tangible impact on creating increased user-convenience. Prior, we would have frequent difficulties when using CRM software. We were unable to change many details on it and often suffered from its complications. next4biz allows users to perform a maximum number of transactions using a minimum number of windows. We often get positive feedback. We can say—with confidence—that Teknosa has fully internalized next4biz.
4- Do you find that next4biz is a flexible product? What would be the best examples of its flexibility?
We have redesigned all of our workflows using next4biz. The first thing to get right was flow management, which had to be precise and efficient. Therefore, our principal goal was involving the agent scripting in this important task. There were many cloud-compatible and user-friendly products around, but the form features of next4biz's agent scripting feature make it a few cuts above its competitors. Hence, we quickly transitioned to next4biz's agent scripting feature. Since its usage was easy and starting from form design and moving on workflow design, ultimately supporting our move to a process management mode. The next stage will involve us using next4biz's agent scripting in process monitoring.
5- Does next4biz lessen your dependency on IT experts and software developers? For instance, is there ever an instance where you require extra support amending a process or adding new fields to the screen?
This is such an important issue. next4biz not only helped us with time management but it also greatly eased the extra burden on our budget.
The main issue we had with our previous systems was resource management. You normally plan the work to be done while thrashing out a working budget at the very outset. These initial stages are mostly prone to various unpredictable hitches and mishaps. For instance, we ran up against a problem that required the execution of a set of operations to be resolved. This left us in a position where we had to trample other priorities because these extra operations had not been foreseen in the budget. Therefore, cutting corners becomes inevitable. So, next4biz came like manna from heaven while we sat brooding on how to extricate ourselves out of this conundrum.
Apart from integration and some infrastructure work, we did not have to use the time and resources of the IT team. Next4biz has helped us achieve self-sufficiency and resourcefulness, in that we are now able to handle most of our business on our own or with occasional support from the next4biz team.
6- What kind of support are you receiving from the next4biz team? Does it have to do with the designing of workflows and interfaces or the implementation of system integrations?
Actually, the kind of training that we get resembles the kind of 'elevated training one gives to other trainers.' We initially sit down and make some action plans, make decisions, and design a few forms. In return, this allows our team to get familiar with the flexible aspects of next4biz, which ultimately allows users to modify certain parts of its interface. The rest we do totally on our own.
7- What has been the reaction from your customers after you started to use next4biz? How would you rate the increases in efficiency that you have witnessed in your issue management processes?
We place tremendous value on the notion of measurability. The biggest advantage that next4biz offers customers is its ability to send a link for customers to follow when raising a ticket. Instead of having to contact our call center again, customers can directly respond to us using the link we have sent them. This link can be directly placed in the created records, which enables customers to track their records and the current status of their complaints. This, in itself, is a huge benefit for customers. We have not really questioned this, but if I were a customer and got such a speedy response to my query, I would be really pleased with not having to make further inquiries with regards to my claim and see it as a step in the right direction. Besides, the availability of reports, or in other words, the ability to conduct data analysis and see the output adds to the practicality of our business.
8- How would you compare the current state of your customer management operations to their previous state without next4biz?
What mattered most to us was being able to develop our own business, and next4biz gave us exactly that. The other advantage was next4biz's agent scripting feature, which we had always dreamt of incorporating into our work processes. Our goal is to enter into process management with the next4biz's agent scripting feature. This will enable our teams to correctly manage their workload with efficiency. It will also be a great development for our customers. Furthermore, agent scripting will provide a first point of contact for customers and allow us to obtain the correct information from the customer, raise the correct ticket, and escalate the issue to the correct department. Apart from that, it is also a great asset to us because we are now able to design our work processes on our own without IT support, sparing us valuable resources. After all of this, the feedback that we've received from users tells us that we are doing the right thing.
9- next4biz's agent scripting feature is a new by-product of next4biz, co-developed by Teknosa. What has it brought you? Would you recommend it to others?
One of our top priorities was to create a navigation system similar to those used in cars or airplanes. However, we will use this system not only for its navigational feature. When working with next4biz's agent scripting, we aim to achieve a number of different actions; we want it to help us to find our way through, that's correct, but we also want it to include the instructions within the records as we find our way. In other words, the aim was not only to ensure increased traceability, but also to detect whether or not we are on the right path, so that we can receive the necessary instructions and also ensure that agents working on a particular issue can reference previous actions undertaken by other agents on similar issues.
We used lots of different systems to manage these processes, but they required that we go back to the records that we created each time we used these systems to handle our processes. What we wanted was a more flexible system with a directive function that incorporated all records. Agent scripting allows us to configure our work process according to our individual needs. Following initial trials, both our team and our call center agents found the next4biz's agent scripting feature to be a very flexible, smart, and efficient system. Its most critical feature, besides its question and answer guidance, is its ability to do so while an agent is on the phone with a customer. Agent scripting both saves us time and allows for faster interactions with customers due to its flexibility, not to mention its compatibility with the cloud system.
As in all call centers, one of the major problems that we faced was high employee turnover. The training of call center employees and the length of time it takes for them to absorb all procedural rules was just too long; and even so, mistakes were still inevitable. Besides, high levels of staff turnover make all that training go to waste since you have to start everything from scratch with every new employee. Switching to agent scripting made that problem totally irrelevant to us. Its user-friendly and simple interface has remarkably reduced staff errors. Since the system and the reports remain the same despite changing employees, we experience virtually zero labor loss because new employees do not require lengthy training sessions. It does not take any special expertise to manage customer complaints using the agent scripts. Its smart guidance functions make the jobs of our employees easier and it offers smart solutions to all issues.
To sum up, agent scripting has given us strength and put us on the right path. We are now in a position where we can provide our customers with a standard level of service like a true corporation. I do not know of any corporation who would say no to that. Therefore, yes, I would gladly recommend it to everyone. Agent scripting confers upon businesses a corporate identity, which they can quickly achieve with a team and call center of their own choosing.
10- Does agent scripting allow its users to design scripts without needing IT support?
Yes. We were able to get the agent scripting feature running in full concordance with our systems. We have successfully put all of our plans into action and we simply cannot thank the next4biz team enough. We have around 300 stores, all using the next4biz software. All incoming calls are recorded and escalated to the relevant department via next4biz, allowing us to make plans and measure their efficiency. We get lots of positive feedback from employees with regards to the efficiency of the next4biz system and this makes us extremely happy. Thanks to its user-friendly features, our staff have reached a level of competence where they can quickly design complicated flows on their own without needing IT support. Compared to the past, we will now be able to apply the correct procedural flow to all issues more accurately.

Teknosa entered the retail technology products market in 2000. With its approximately 300 stores and its website, teknosa.com, in addition to other mobile platforms, and 3500 employees, it prides itself upon having highly qualified sales consultants who offer customers a personalized buying experience with their high-tech tablets. TeknoSA conducts various educational, scientific, and art projects to positively contribute to the cultural and social lives of its customers and help raise tech-savvy generations. A responsible retail corporation, TeknoSA pioneered leading environmental projects in Turkey, and set a good precedent for other corporations with its projects on electronic waste collection, the proliferation of environmentally-friendly shopping bag usage, and energy efficiency.

He graduated from the Department of Electronics and Communication at Istanbul University and the Business Administration Department at Anadolu University. His career began in 1991 as an R & D engineer at Beko before moving on to work as a Service Support Engineer at Ak-net in 1993. He worked as a Marketing and After-Sales Coordination Manager at Singer between 1994 and 1996. In 1996, he acted as the Service Regional Manager of Istanbul at Philips Medical. Finally, he began working as a Service Manager at TeknoSA in 1998, and is currently continuing his career as a Customer Services Manager. Gökhan Paçalı is married with a child.