next4biz attends the Banking Call Center Summit 2015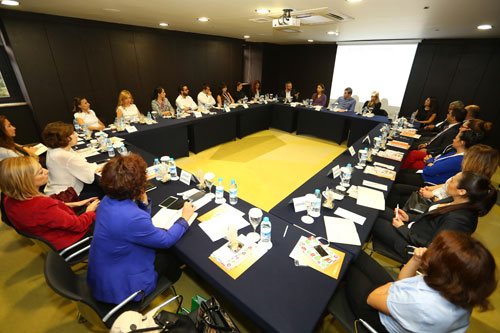 Next4biz Information Technologies attended this year's Banking Call Center Summit, too. 20 banks participated in the event which took place on 8 October. The Complaint Management Meeting sponsored by Next4biz started off with the presentation of Mehmet Akgün, ING Bank Customer Contact Center Group Manager.
As a manager who closely followed up on the entire adaptation process in his bank right from the word go, Mehmet Akgün told the audience about the easy integrability of next4biz into banks' work processes. At the end of the presentation, participants enjoyed the privilege of having their questions answered by someone who works in the same sector with them and uses the next4biz app.
Customer relations management is especially a critical process for banks which have thousands of customers. In this highly competitive sector, tracking the management processes of your competitors matters just as much as tracking your own. Who manages what processes and how? What kind of problems do they encounter? What improvements can be made, what are the suggestions? Having the chance to discuss such questions with people with similar perspectives who speak the same language and encountered similar problems is essentially a crucial opportunity.
Attending the Banking Call Center Summit meant to us a lot as a company which provides solutions geared towards solving customer relations related problems. It is also important for us that during this year's events we have found the chance to communicate first-hand the experiences of one of our clients who serves thousands of customers every day and marvelously manages hundreds of end to end work processes involving thousands of users.
Majority of our clients are in the finance sector. For us, it is especially a great matter of pride that we are working with the 7 largest banks in Turkey. We have tremendously expanded our industrial experience thanks to the ever increasing number of our clients and expanding it even further with new clients is among our foremost priorities. The greatest source of motivation for us is taking the service standards of our clients to the highest level possible since we are fully aware that the satisfaction of their clients directly means the satisfaction of ours.