Business Case: Optimization in Field Service Management
Business Case
One of our customers came to us with some business requirements in the field service management. They have 250+ service points, and 900+ technicians with different level of expertise. They work with an outsourced call center. The technicians are mobile all the day. They wanted to improve their customers experience just by providing the best services in the shortest period of time possible.
They asked to us how to create a solution that provide both customer satisfaction and the resource efficiency. Also they wanted to monitor the whole process in real-time. We developed an optimization process within  next4biz BPM to meet the requirements.
Solution
When a customer buys a new product or call the customer support for an issue, next4biz BPM initializes a new process automatically and calculates the best service offer for the customer. next4biz BPM  runs an optimization algorithm to calculate the best timing and service for the customer need. Type of the product purchased, customer location, service workload and the technicians' expertise are taken into consideration. As a result next4biz BPM plans the field service automatically. Agents instantly inform the customer on the phone or face to face in the shop. Besides, next4biz BPM sends a notification to the customer mobile phone for the service visit arrangement. At the same time next4biz BPM adds this task to the technicians' task list.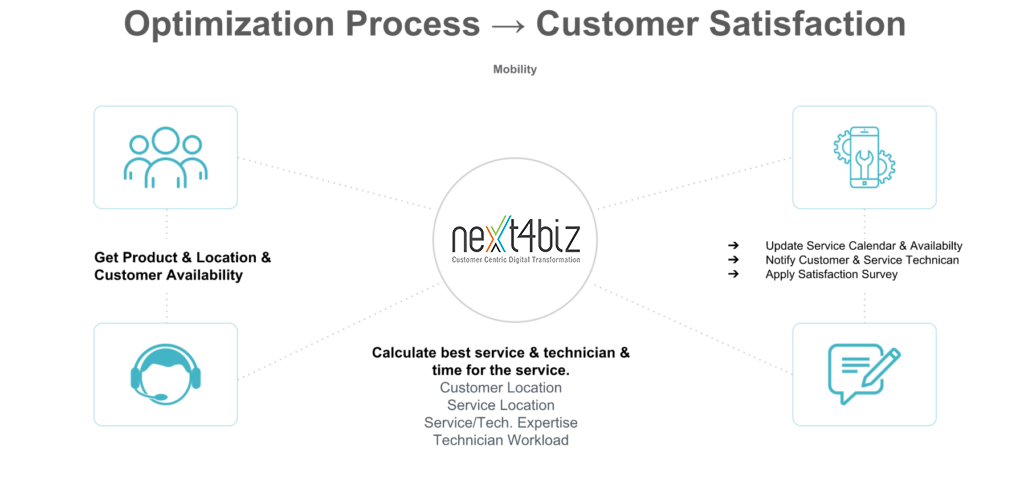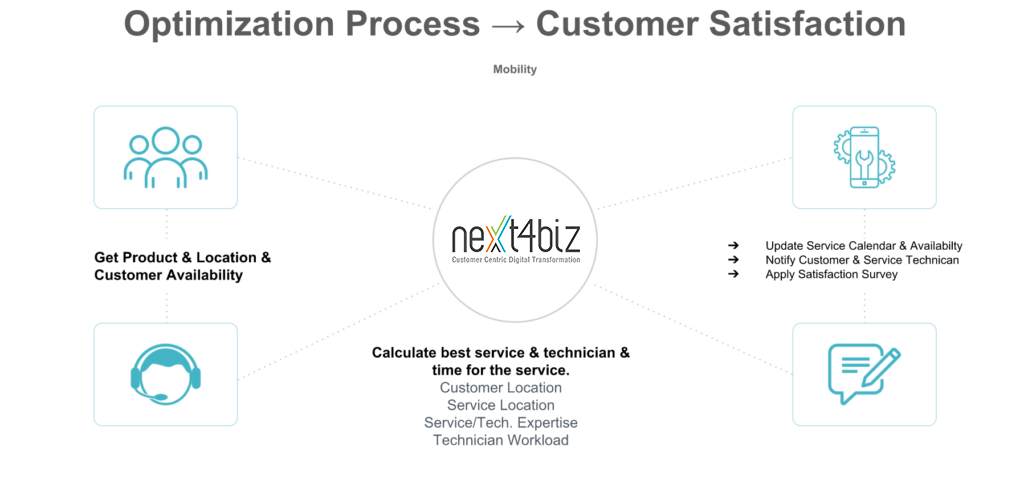 When the technician visits and give the service to the customer, he fills the service form on his mobile and gives a copy to the customer, next4biz BPM notifies the customer, the salesman in the shop and the customer relation department. Then the customer relations apply a survey to a customer to measure the satisfaction of the customer.
next4biz BPM manages the process, measures the timings and informs the related managers if there is any delay occurs.  The company started to measure service levels through dashboards and reports.
As a result, the service quality and the customer satisfaction has been improved. Our customer have plans to use next4biz BPM in other critical processes.