The Perfect Solutions of Perfect Corporations
In this day and age, many corporations first prefer to look into how they can make good use of the innovative sector-specific solutions that are being developed before taking any steps to ensure 'sustainable customer satisfaction'. It is not as easy as it sounds learning from the experiences of other corporations, and taking these experiences on-board. Especially at a time when the number of transparent and self-confident corporations willing to share their experiences with other companies is constantly dwindling… And, indeed, a unique corporate identity is a distinguishing feature. All corporations tend to think that they are 'very unique' in their own unique way, offering unique products to unique customers… This being the case, learning from others' experiences and drawing your own path is perhaps the most 'distinguishing' organizational skill.
The 2nd Call Center summit, which took place on May 30 2014 at Istanbul Halic Congress Center, hosted a gathering of companies organized by next4biz for an inter-company exchange of insights and experiences. Customer service managers of 4 leading corporations shared with us their best practices, vision, and experiences during the summit's most important forum, 'Sustainable Customer Experience'. The success stories they shared with the audience as well as exemplary business practices provided invaluable insights into the process by which corporations manage the customer services process; they also helped dispel lingering reservations with regards to the capabilities of companies to manage these processes.
Another valuable guest, Erdem Zekeriya İskenderoğlu, Zeytinburnu Municipality Information Technology Manager, Another valuable guest, Erdem Zekeriya İskenderoğlu, Zeytinburnu Municipality Information Technology Manager, talked about the intricate decision making processes lying behind the running of public service departments and mentioned that sustainability in public services was more about constantly improving  the quality of services provided to citizens rather than seeking short-term stop gap measures.
Mehmet Akgün, INGBank Customer Contact Center Group Manager, who introduced various innovative practices into the customer service sector, also mentioned that the key in establishing fruitful communication with customers lay in creating solutions that appealed to emotions, and not just senses.
The last forum speaker was Salih Karabulut, Service and Customer Experience Manager of Sahibinden.com, the meeting point of more than 28 million individual users in an average month. Mr. Karabulut mentioned that the biggest gripe of today's e-commerce customers was getting lost in large quantities of data, not being recognized and not getting enough attention and added that the technologies the industry uses must be capable of providing end-to end solutions to address these concerns..
As the forum manager, I have exerted near maximum effort to find out which practical outputs they especially focus on in their daily administrative practices. Hundreds of guest listeners filling the hall were all eyes and ears, eager to learn some useful lessons from these four senior managers representing companies renowned for having established the highest quality standards in customer services.
Besides being the customer of hundreds of brands in our daily lives, it is our common hope, as citizens, that all public services are executed without glitches, interruptions, or delays. Mr. Erdem told the audience that as Zeytinburnu Municipality, constant improvement underpinned their quality service mentality. He added that they recorded and regularly analyzed thanks to next4biz, all sorts of requests and complaints coming from various channels such as face-to face interviews at the White Table, calls to the call centre, e-mails or petitions and thus achieved a remarkable progress in the execution of public services.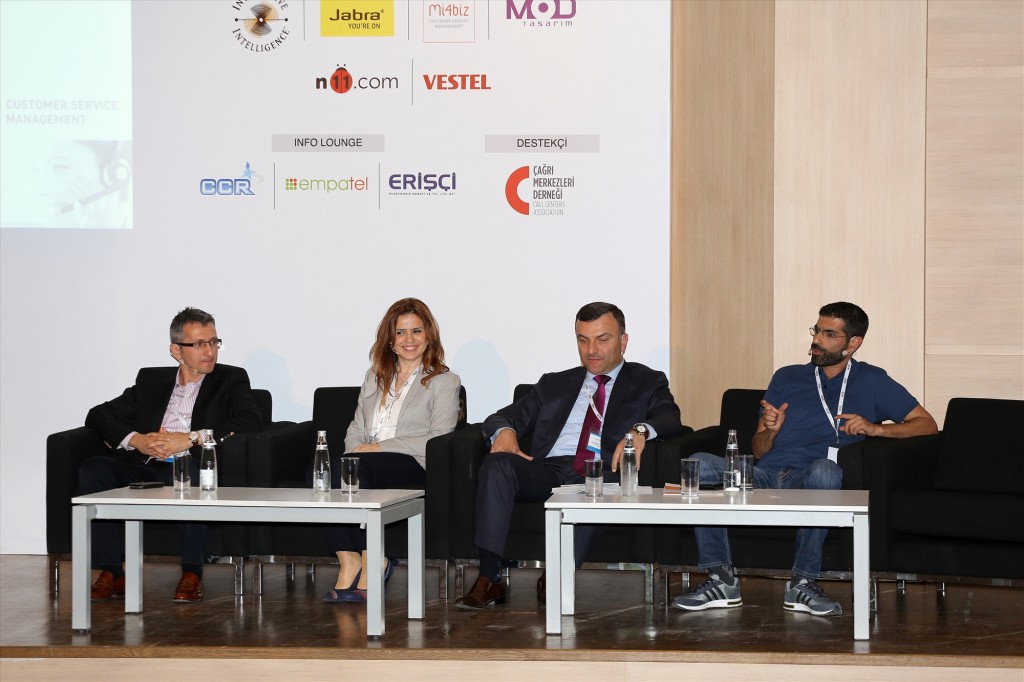 Mr. Akgün, who stated that ING Bank shared with its international partners the results of its service operations achieved using next4biz affirmed that product variety did not play so much role in the attainment of a preeminent status in the banking sector as did the satisfaction level of customers who contact us every day through the distribution channels of our banks to get support and assistance with the products they purchase. He underlined the fact that the staff had to be made up of employees who constantly learn new things and develop themselves accordingly to turn this interaction into a happy customer experience. He added that they benefited highly from next4biz's know-how database to achieve that.
Salih Karabulut mentioned that Sahibinden.com was a large platform and that next4biz brought together suppliers and consumers on the same platform for the management of all complaints and grievances with regards to all services and products offered via that platform. Karabulut, who underscored the fact that companies must have the necessary infrastructure for the smooth execution of thousands of transactions performed every day, mentioned that the most important of all was establishing effective solution mechanisms whereby any potential delays could be immediately brought to the attention of company officials and managers to prevent getting lost in huge quantities of data.
I wish I could share all the inputs of all forum participants but space limitations do not allow me to put them all here. When the 1-hour long forum where exemplary work principles and practices were shared came to an end, I felt, as a professional whose ultimate goal is to ensure sustainable customer satisfaction by delivering excellent customer service, that all the questions formerly filtering through my mind had been answered. I now understand it more clearly that the key to achieving success in customer services is using constantly changing solutions that easily adapt to market conditions and procure the right technologies from right suppliers.
I once again sincerely thank all the guest listeners and participants for sharing their experiences with us and remind you that you may access all forum videos here.