Any software applications should be designed to live in a dynamic context
What was considered a definitive customer service solution few years ago, may not be the best answer today or the next year. In addition, new trends and business opportunities are driving the specialization of software components.
Since day zero, in next4biz we decided to design an application able to send and receive events and data with other systems. In our vision we had to be ready to play as an orchestrator or as a member of a successful team of applications delivering the best customer support. In the last years, this requirement has become more and more important and we dedicated a special team to produce an Integration Framework which designs the interaction protocol with any other software by using web services.
---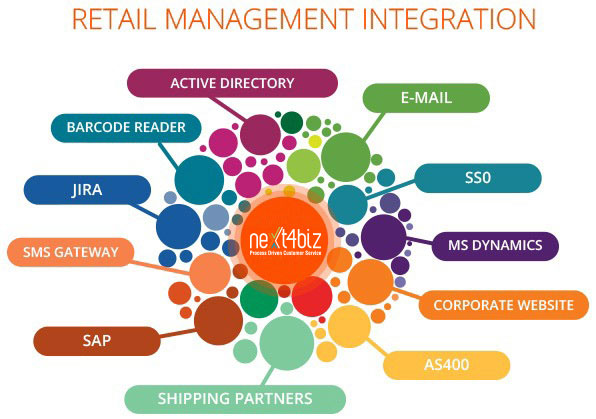 Examples of Customer Service Integrations
next4biz can manage events and transfer data with any other application like Call Managers, Interactive Voice Responders, Enterprise Resource Planning, Customer Relationship Management and online banking apps.
He Integration Framework is the technology we used to manage events like "customer creation" or query a contract and transfer data between systems, like exporting data to a data warehouse.
next4biz can also be embedded in other applications or can host integrated iframes to reduce the need to swap among applications while the customer is on the phone (Alt+Tab, you know?) Modifications of the pages are simple and do not require any software. In any situation you can personalize the information necessary to resolve various categories of tickets, requests and complaints Easy definition of the steps necessary to solve all your customer's issues. Involve all the organization to give the feeling that your service is ready for any type of service.
---
Help Center
More than 75% of customers consider the SelfDesk a convenient way to address customer service issues. In next4biz, customers can submit their requests and find answers in the knowledge base in the Help Center embedded in the corporate website. Complaints and requests are automatically managed according to the workflow designed for each single category of service.
Call Center Systems
next4biz has been integrated with CTI (Computer Telephony Integration) in a wide range of call center systems. Using the data provided by the call manager (CLI: caller line identification), next4biz retrieves the customer information from CRM systems or from its internal repository. Whenever the agent answers the call, the frontpage will be automatically filled with customer's data and the list of the previous interactions across all channels.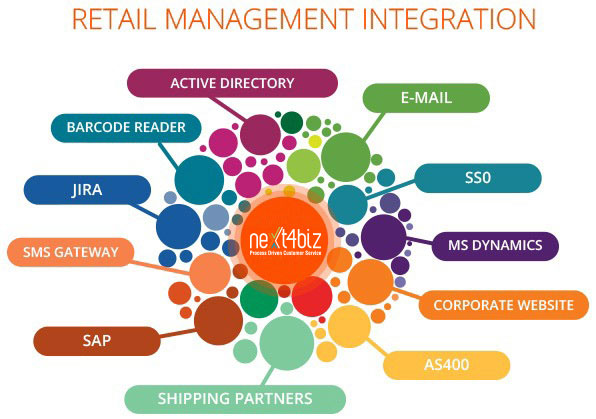 ---
IVR Integration
next4biz has been integrated with Interactive Voice Responder systems in big organizations. The options selected in the voice menu are used to retrieve the customer profile, segmentation, category of the request, priority and other information. At the end of the interaction with IVR, the caller data and all his past communications are presented to the agent in a single customer view.
Email and SMS Gateways Integration
Email and SMS are the standard communication channels for notification to users, managers and customers for the various event generated in the system, like request submissions, resolutions, escalations, etc.
Native interfaces in the control panel of next4biz are available to connect all types of email servers and SMS Gateways.
CRM Integration
next4biz has been connected with all brands of CRM, either top market products or "in-house" developed. Special interfaces are developed to handle Customers' profiles, contracts, and inventory management by web services transferring information in xml files.
Chat Integration
next4biz has a plugin for Chat where the support agent can interact with online customers and transform every session to a specific request to manage with the appropriate workflow.
External Chat softwares are also enabled to interact with next4biz using web services.
Authentication Systems Integration
Our customers are deeply concerned about security and in many cases they delegate the authentication and authorization policies to dedicated platforms for risk management. In those contexts the internal user management of next4biz is overridden and the access is verified in those applications over a secure channel (SSL).
XML Data Transfer
next4biz receives and sends information using XML format.