Unfortunately, many businesses do not calculate Customer Lifetime Value, despite its importance as a measure of performance. An accurate CLV calculation can help you determine the cost associated with gaining a new customer. It is invaluable for determining whether it is more profitable to attract new customers or boost the income generated from existing ones. Monitoring your Customer Lifetime Value will also help you focus on keeping and satisfying your existing customers.
A business model with a high CLV is more likely to be a sustainable and successful one. The average income you obtain from a customer reflects the ratio of average number of orders to repeat orders and the duration you expect to keep the customer. So how do you calculate this amount for B2B and B2C business models?
How to Calculate B2B Customer Lifetime Value?
As B2B business models are based on sustainability and multiple customer purchases, Customer Lifetime Value can be calculated by multiplying the product + service cost with the average duration of customer loyalty. In a monthly subscription-based business model, multiplying the subscription cost, service cost and average subscription duration will determine the Customer Lifetime Value. For instance, a company that provides software infrastructure to corporations can calculate their CLV based on product cost as well as the cost of any training services, post-sales software maintenance and other payments they receive.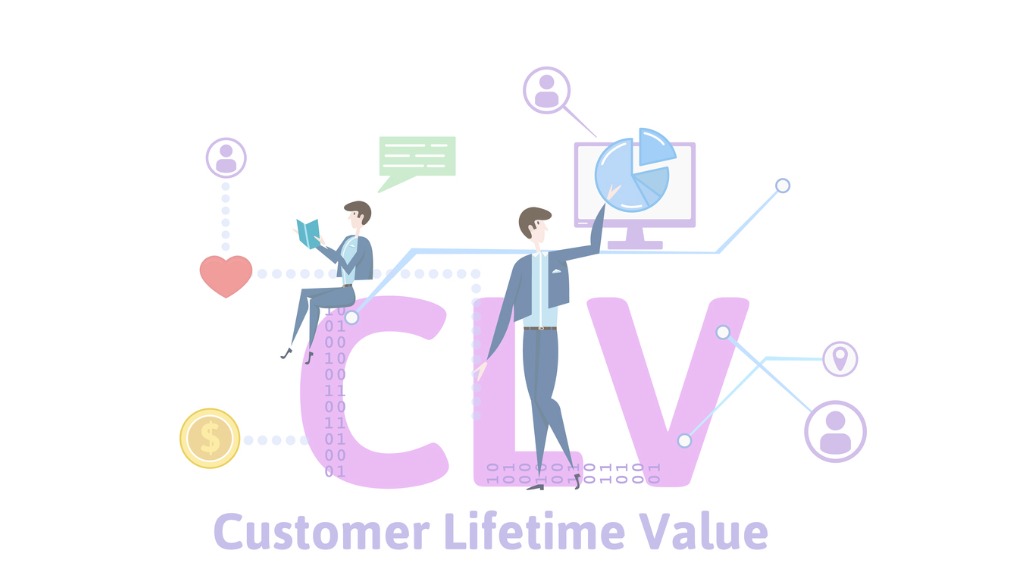 Customer relations is the key to enhancing Customer Lifetime Value for companies whose target audiences are commercial enterprises and organizations. Customer characteristics differ in such business models; the business-customer relationship is based on mutual cooperation and is better-practiced, more informed, and more demanding than direct relations with consumers. When it comes to large-scale purchases of higher value, traditional CRM practices fall short as a means of effectively managing customer relations.
How to Calculate B2C Customer Lifetime Value?
The product life cycle is often shorter in B2C business models than in B2B models. Furthermore, B2C business models typically produce one-time purchases, meaning Customer Lifetime Value can be calculated via product and sales costs. On your e-commerce website, for instance, you can consider the rate of repeat orders and calculate the maximum cost of gaining a new customer by evaluating all purchases made by an average customer from your enterprise with your profit ratio.
How to Boost Customer Lifetime Value?
You must achieve 100-percent customer satisfaction.
If you want a customer to remain loyal to your business, they must first be satisfied with it. Research suggests that 47 percent of customers who have a negative customer service experience will switch to a rival business within a day. That means you must target 100-percent customer satisfaction before anything else.
Your customers demand quick solutions and attention to their issues. Therefore, there should be infrastructure in place to keep the customer informed throughout the process, from the submission of a complaint to its resolution. The complaint management solution should automatically notify customers on various channels, including email and SMS. Customers will be relieved to know that their issues are being attended to and that you are working towards a solution. Eventually, the customer perception of your business will improve.
Customers often submit their complaints not only through call centers, but through various communication channels including email, website, chat and social media. In some companies, issues submitted via different communication channels might be independently handled by different teams within the company; this, however, results in incoherent complaint management and customer dissatisfaction. If a customer who submitted a complaint by email contacts the call center to follow up and is greeted by an oblivious agent who is unaware of such a complaint, they will be frustrated.
Fortunately, there is a CRM solution to this problem. The omnichannel next4biz consolidates all complaints submitted from different sources in a single center. This means you can follow up on complaints on next4biz regardless of a customer's point of contact. If you search for a customer on a next4biz screen, you will have access to all ongoing or resolved issues submitted by the customer.
Additionally, next4biz offers an automated email/SMS notification and warning feature. When a new complaint is submitted, the customer will be notified by email or SMS that their issue has been received. Customers can also track the status of issues on the website. Keeping customers updated during the complaint management process improves customer satisfaction.
Distinguishing Customers
Traditional segmentation is, frankly, pretty boring, and it often leads to corner-cutting. Difficulties in integrating or updating customer data, or eliminating inconsistencies, will result in inefficient databases. However, you cannot market without data. The more up-to-date and editable your customer data, the more coherent your marketing strategies will be.
When provided with sufficient data and a manageable environment, marketing experts can analyze customer behavior by integrating customer data, transaction data and even metadata to develop unique strategies for each channel that will yield greater campaign returns.
With next4biz CRM, you'll have the ability to:
Gather and integrate customer data from different sources;
Assess the consistency, accuracy and validity of this data, eliminate unnecessary duplicates, and integrate the data seamlessly into your applications;
Apply multidimensional dynamic segmentation by incorporating customer data, labels and digital behavior.
Digitalize Business Processes with a Customer-Oriented Approach
Competition may necessitate changes in your business. You might need to modify your operation methods quickly. However, it may take months or even years to duly adapt your business process infrastructure. In this scenario, you will need to reduce your business development time and cut coding and consultancy costs. The good news is that next4biz BPM allows you to enact rapid digital transformation and minimize costs.

You can easily design and operate your processes and interfaces on next4biz BPM without coding or the need for technical support. You can design processes in minutes on next4biz BPM by dragging and dropping, and then edit and operate as desired. This can reduce your overall costs to boost Customer Lifetime Value.
Customer-Oriented Digital Transformation Model by next4biz Boosts Customer Lifetime Value
Apply the integrated and end-to-end digital infrastructure of next4biz during your business transformation to accurately calculate Customer Lifetime Value, and enjoy focusing on retaining and satisfying your existing customers.
Contact us to find out more about the integrated CRM + CSM + BPM modules of next4biz.
Contact us for more information about next4biz's integrated CRM + CSM + BPM modules.