Breaking Down the Walls Between Departments!
In addition to contact center, all departments across the organization can be engaged to solve issues and requests.
Our clients are using next4biz in many area of the business, as a quick example we have:
Customer service management
Order management
Quality management
IT help desk
Shops/Branches request management
Product management
Citizen requests management
The common point is: processing those requests requires a team of people spanned across the organization.
The completion of a task has normally few stages (for ex: "nearest shop" request) but in some situations it may require more stages and the intervention of external suppliers (for ex: issuing a new credit card).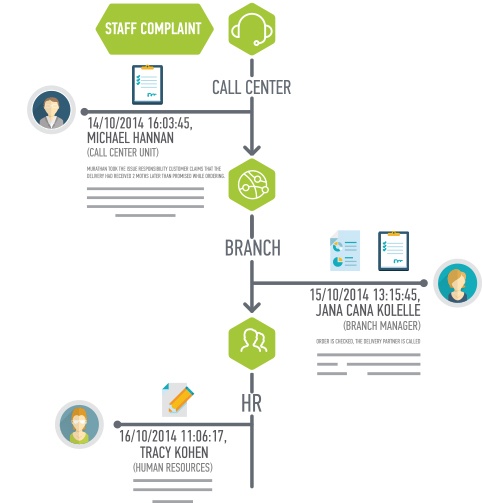 ---
next4biz connects all departments to resolve a request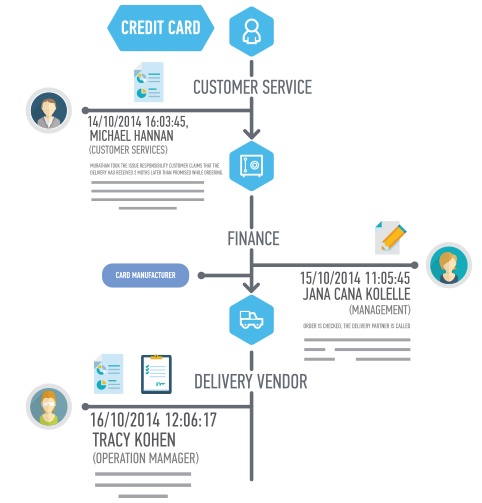 When a request cannot be solved during the initial call it's necessary to have it despatched through all the processing stages. next4biz is a software that is conceived for organizations in need to reinforce the collaboration among departments and track the overall performances.
As an example, an issue concerning the bad behaviour of a front desk employee it may engage the Call Center, Human Resource and the Branch Manager.
In big companies with matrix organization all departments are asked to pursue their specific (local) objectives but also they have to interact and collaborate in cross departmental tasks like customer support or internal auditing.
Important questions then arise:
How much work is necessary to deliver those tasks ?
Who will be billed for those activities ?
What are the estimated costs ?
What is the estimated revenue ?
How to become "end to end" with next4biz
After the initial uploading of the organization structure (agents, groups, departments) the definition of the workflows will requires to identify each action item (i.e. resolution step) and the function responsible.
Task Management
Designing workflows is the process that identifies responsibilities and deadlines. In next4biz you can specify the sequence of the operations necessary to solve any type of task and their SLA. Those activities can be performed inside the company or delegated to an outsourcing partner.
A closer look to an issue's life cycle



The lifecycle of any request is always visible in the main page and it collects information about the actions taken, from which user, when they occurred, in which stage of the workflow, descriptions, notes and many other details.
Since all the actions are listed chronologically, with a quick look every user can understand the history of a task and eventually if it was escalated.
"Customer service is not a department. It is a philosophy to be embraced by every person in any position within an organization." Shep Hyken