Today, as business managers, we know that the most important business management principle is to provide a better experience to our customers. A good experience guarantees future business interactions with "good" customers and is the key to attracting other "good" customers like them to your brand. To provide a better experience to our customers, we have to focus on this issue and allow our current customers to become "better" customers for the business.
The question is, to what extent can we provide a better experience for our customers and attract new ones when the costs of customer service – which is the most Customer service, which has previously been called an "expense center" for a important expense item for a customer-facing enterprise – are ever-increasing?
business, has now turned into a "profit center" by selling products to customers with cold calling, which has become especially popular in the last few years. However, customers have become desensitized to cold calls, as many were made using inappropriate and aggressive tactics. Thus, customers often have rightfully harsh reactions to these calls. In addition, legal restrictions on cold calling indicate that this type of marketing will soon fade away.
The sole exception to this is the endeavor to turn incoming calls into cross-sales opportunities. However, the effectiveness of trying to make the customer request a new product/service when they are calling to find a solution to a current problem is debatable.
In the current situation, an enterprise should find ways to better manage this issue while providing improved customer service to their customers in every situation, on a daily basis. This leads us to the elephant in the room: How can we reduce costs while providing better customer service?
10 special strategies to reduce customer service costs
Below, you'll find 10 basic pieces of advice that will optimize your ever-increasing customer service costs and increase the service efficiency in your organization. We've compiled these tips based on the general behavioral trends of today's consumers.
1. Implement self-service alternatives
Offer self-service options such as online knowledge bases, FAQs, issue entry, and tracking interface to enable customers to find answers to their questions on their own without the need for a direct intermediary, or agent support.
Among the organizations and institutions that have long been using self-service channels are: THY Kargo, which provides air logistics services to most destinations of the world; Daikin, the most preferred brand in the world for air conditioning; Türkiye's e-commerce giants Sahibinden.com and Modanisa; Alternatifbank, AnadoluBank, AktifBank, and KuveytTürk Bank from the banking sector; and other ministries, public institutions, municipalities, etc.. As the requests from these channels are resolved faster, the customer satisfaction from using these channels is high.
2. Use chatbots
Use chatbots to answer routine questions and fulfill operation requests such as resetting passwords or providing order status and basic product information, and have customer service representatives get involved to solve more complex issues.


3. Provide omni-channel support: Offer support across multiple channels – phone, email, chat, social media, and messaging apps – to have customers contact you through their preferred channel.

Make sure that this service is provided in an integrated fashion, meaning that your representatives serving in all channels are aware of all of the customer's communication across the channels.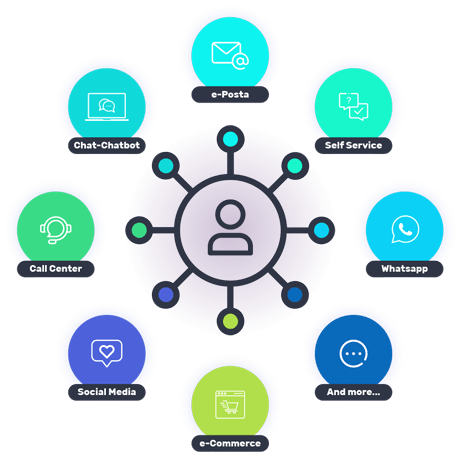 4. Personalize customer interactions
Use customer data to personalize interactions and provide special solutions to reduce the chance of callbacks and complaints.
Inform the customer about the status and solution stage of their issue through personalized instant messages without having them ask you first.
5. Use automation
Automate routine tasks and questions, reduce the need for human intervention, and reduce response times. In particular, by using automatic notification messages more effectively, you can prevent unnecessary calls from your customers.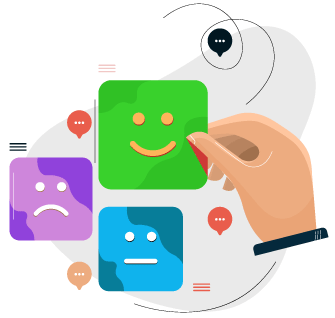 6. Use customer feedback: Gather feedback from customers to define areas of improvement and consider issues proactively before they turn into bigger problems. Listen to your customers via dynamic questionnaires that you create for customer insight analysis. After every service event, focus on what your customer is thinking and feeling by administering a single question questionnaire.
7. Provide training and improvement
Invest in employee training and improvement to improve the knowledge and skills of the customer service agents and have them provide better and faster solutions.
To this end, you can use a CRM with an "agent scripting" feature. With this feature, you can add scripts to your agent's screen, which they can then follow based on the customer's questions, category of the customer's complaint, etc. In this way, they'll always know what to do next and will be able to gather all of the necessary information to solve the customer's issue.
Also, create an internal knowledge base library where customer service representatives can find the answers to questions related to your products or services. In this library, prepared specifically for your organization, they should be able to find answers to all questions and provide services to customers by using the up-to-date information found there.
8. Facilitate processes
Facilitate internal processes and procedures to reduce the time and effort required to solve customer problems.
Design business processes for all necessary categories by using a process-oriented CRM and manage customer issues with processes. Continuously optimize your processes by constantly monitoring these processes and performance results.
9. Use data analytics
Use data analytics to define common questions and reach out to customers proactively to address these questions before they become bigger problems.
Use reports and dashboards not only to measure performance but also to provide proactive solutions to customers.
10. Provide self-help tools
Provide self-help tools to customers, such as educational videos and product demos, to help them solve problems on their own.
By implementing these strategies, your organization can reduce its customer service costs while providing better service. This will ensure higher customer satisfaction and loyalty. Check this list now and decide which items you need to take action on. With every day that you delay, the cost you have to bear to acquire customers will increase.