Knowledge Base is a must for an ideal Help Desk
A single place where customers can self-solve and First Contact Resolution can improve
Recent statistics shows that 75% of customers intend to use the self-service as initial method to address their problems. Not surprisingly, customers are trying to avoid interactions and find their answers in authonomy. Companies are interested to take this opportunity and provide software tools that can improve the customer satisfaction and reduce the number of calls to the call center, with a reduction of the cost of the customer support.
next4biz satisfy this requirement by providing a Knowledge Base tool that:
Supports the traditional service of the customer carere presentatives providing guidelines, how-to' s, and all the necessary documentation to manage any type of request.
Offers rating instruments to quickly understand what are the best solutions or help. Customers will feel that SelfDesk is a powerful instrument to save time, if properly used.
Matches simplicity and intuitivity because it's tailored to a wide range of customers, and because it was built following their suggestions.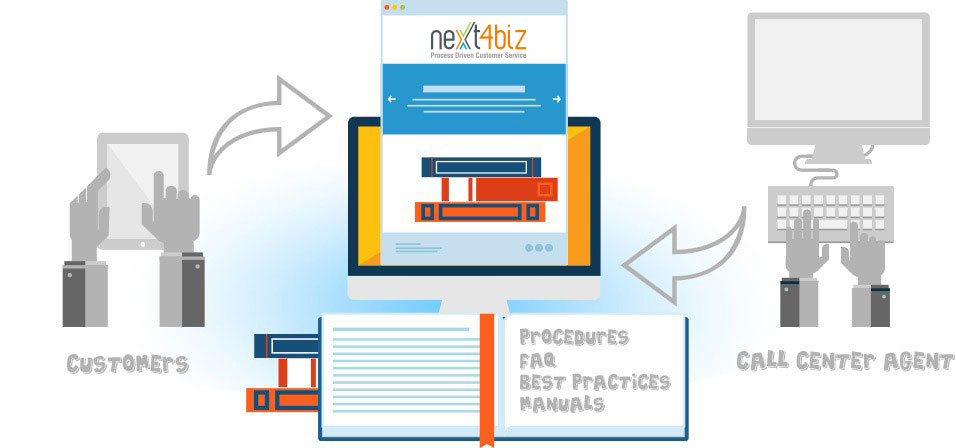 ---
From Customer perspective SelfDesk is the fastest way to get the right answers at the right time
When we have questions about a product or a service the first thing we do is to browse the internet and try to find the answers we need. We feel lucky when we can find an online repository of cases close to our situation with their corresponding resolution. In this way, in a short time we can solve our problems without asking help from anybody.
If you adopt next4biz Customer Service you will be able to publish list of cases, faqs and announcements where everybody can search autonomously their answers, or discover the new promotions and any change in the services offered.
From the agent perspective Knowledge Base is the internal wikipedia
Call center agents are in the battlefield answering any type of requests from customers. In order to provide support they need to be facilitated by a repository of best practices, manual, procedures and past experiences.
This internal "wikipedia" is offered by next4biz with the purpose to centralize the knowledge that can be dispersed in the organization silos, increasing the efficiency and the information retrieval through full text search.