Managing Customer Service
next4biz – A Shortcut between You and Your Customers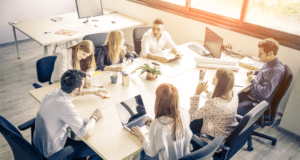 The main contact point between a client and a company is the Customer Service and managing customer service in the correct way is the key for profit. All kinds of questions, complaint and suggestions should therefore be directed to Customer Service via form on contact page, a telephone number for call centre or social media suchlike Twitter, Facebook, Instagram, LinkedIn and so on.
Herein raises a growing problem for companies for managing customer services. How to reach all concerns of customers and how to give the satisfactory responds on time? The best approach should be compatible with both sides giving a holistic view to the concerns.
How Should Be The Best Customer Service Management For A Customer?
The best procedure of managing customer service for clients is the one requiring minimum personal information with easy identification and an adequate description of the needy issue. The fast problem is identified, the fast it is solved as well. Here at, one of the essential properties of a functional Customer Service Management is to provide the quickest solutions with high satisfaction.
How Should Be The Best Customer Management Service For A Company?
On the other hand, a company should have the most optimized and cost effective management system with all inner and outer communication possibilities. Those possibilities include live chat software; communication forms, email and call enter substructures and many more all in one in next4biz.
next4biz provides an overall system from the first moment a customer experiences a problem till the solution procedures company creates. We adopt managing customer service works as a gate opening to a new generation understanding of management. Therefore, we provide a highly functional and cost effective omnichannel software for managing customer service system involving a wide range of communication ways suchlike call enter infrastructures, online customer support systems, fast and easy social media contacts.
In brief, next4biz will help you to give all your clients' questions all due consideration and provide with the most accurate and timely solution. In order to prevent receiving repeated emails containing the same request, next4biz offers you an all-in-one omnichannel software for managing customer service, due to its accurate analytics and chronological order of process on an easy-reading display.