Market Drivers and Business Issues in Customer Service
Customer Service Affects Buying Decisions
Today, people's buying decisions are commonly influenced by the existing customers' experiences and satisfaction level. Social media, community platforms, and news on the web are all affecting the customer's perception of your brand.
In some mature markets, keeping existing customers happy and loyal is more crucial than gaining new customers. Therefore, customer service is one of the most potent marketing tools available to you to create and enhance your brand awareness levels.
Multichannel But Not Omnichannel Communication
Companies have multiple communication channels to capture customer issues, such as call centers, live chat operators, social media agents, email, web forms, etc. – but in most cases, the channels are not integrated. For example, let's say a customer sends an email about his issue and then calls the call center afterward. The agent who receives the call will not be aware of the customer's previous email due to the lack of integration between communication channels.
In an omnichannel communication environment, you will be able to handle all communication channels as if there is only one. In other words, whichever channel is being used, your agents will be aware of the customer's current and previous communication in other channels. Similarly, your customers can trust every communication channel you provide. When customers see that your company is really listening via all channels, they will prefer the electronic ones. Why should they have to be on hold with the call center when they can simply send an email or use the self-service on your website? For both the company and the consumer, the call center is the most expensive form of issue resolution.
Customer Service Is an End-to-end Process Management System
Customer service is generally assumed to involve call centers and complaint management. From our perspective, however, customer service is an end-to-end process management system that may involve any department, or even branches, vendors, etc., depending on the type of customer issue, its attributes, channels, the customer segment and more.
Fragmented Customer Experience
In today's organizations, call centers, customer service departments and operational departments are using separate systems. Customer issues are managed through departments by sending emails, then entering the same information to the other systems, which causes a fragmented customer experience. Agents responding to phone calls take notes and forward the issue by email or phone to the related department or submit the issue into another system. Most of the time, the resolution may be longer than two steps in the workflow; therefore the experience becomes even more fragmented. Employees may be required to talk with the customer without knowing what has already happened in previous steps of the process.
This creates much deeper, more serious underlying problems while trying to resolve the surface-level customer issue.. People may simply stop trusting your products and services after having a bad experience with the customer service department.
Customer Service Consists of Several Processes (not only one)
There is no single solution for all types of problems. For different types of customer issues, you may need different processes.
Status Monitoring Is Not Process Management
Organizations generally apply classic status labels ("captured", "forwarded", "in progress", "resolved", "customer replied", etc.) to all types of customer issues as if these statuses are workflow steps.
In our perception, every type of customer issue may require a different workflow. A workflow is a sequence of tasks to be requested from different parties to resolve the issue. It is much more than the status of the issue.
Every Process May Require Different Data Structure
Asking the same questions and filling out the same forms for every type of issue is not a healthy way to approach issue resolution.
Depending on the type of issue and the customer's details, a different type of data may be required. For example, the information needed to resolve issues of rude employee behavior differs from the information needed for a case of late delivery.
In the first case, the agent may ask the customer for the store name, the employee name if it is known, and the date of the rude behavior. In the case of late delivery, the agent needs the order number and the delivery date.
Depending on the issue or customer details, workflows and business rules may change.  For example, to resolve an issue of rude behavior by an employee, you may need a workflow with two steps. In the first step, the store manager will be notified and a task will be assigned to him. He will be responsible for filling in his opinions in the custom field on the corresponding form within 5 hours. The next step would entail the HR staff coming up with a decision about the case and marking it on the corresponding form.
Tool Diversity
Tools can be classified into four different groups: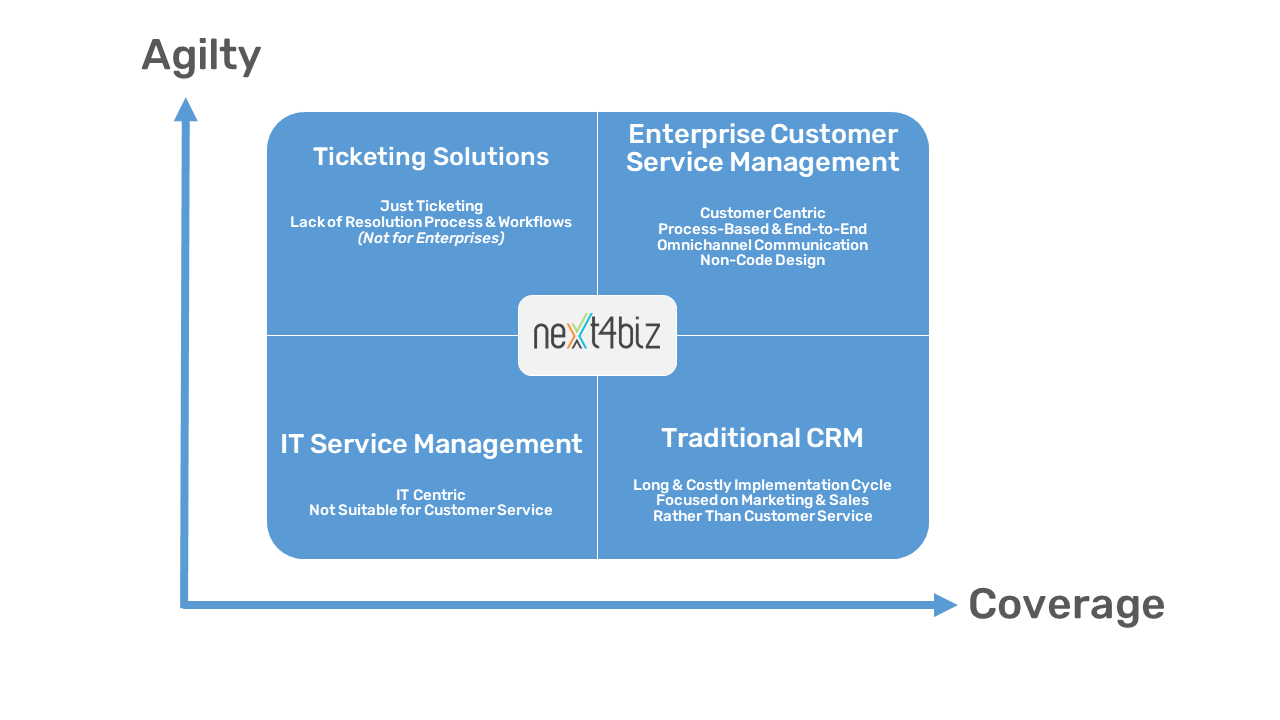 Ticketing Solutions (e.g. *desk*.com): As the name implies, these solutions merely collect the issues, give them a unique number, and let the agents forward them to the relevant departments. Then the agents wait for answers from those departments and reply to the customers. There is no solution process.
CRM Applications: Most of these are focused on the marketing & sales side of customer relations instead of after-sales communication and customer care management. They have modules for customer service. They are mostly old-fashioned, do not cover all aspects of unfragmented customer service, and they are very difficult and costly to customize. They require coding in order to adapt the requirements. Therefore, business departments have to wait for the IT department's availability (which is typically a very long period of time) to get what they need.
IT Service Management Applications: These applications solve user issues of IT departments and are used mostly to resolve technical problems. They are good for ITIL compliance but not convenient for customer service management. Adapting an ITSM solution to change the requirements of customer service is a big project, and it is almost impossible for business departments to be independent of IT in this case.
BPM Applications: Tools for business process management may be divided into three subcategories.

Process Modelling Tools: Basically these are drawing tools. You can design (draw) as-is and to-be processes of your organizations. However, the designs have to be implemented by IT or using some other tools. Discrete design and implementation phases bring the problem of maintaining up-to-date processes and corresponding automation. Whenever a change is needed, it will probably be implemented directly in the applications, so the process design will be out-of-date. Or vice versa: when you're designing a new process, you have to wait for the IT availability to get it implemented.
WorkFlow Tools: These are simple tools for simple problems (simple problems are frequently imaginary problems, meaning there is no simple problem). They are not process management tools. Their data and user interface design utilities either do not exist or are not sufficient.
Non-code real BPM tools: These are great tools for business process management. We have been developing Ophelia as our non-code BPM solution for institutions, but when it comes to customer service automation, you have to have customer service management tools like next4biz. Otherwise, you'll have to implement a CSM on your BPM, which takes time, requires more budget and involves risk of failure. Even supposing that you succeed, will it be possible to align with your changing requirements? Or will you have to follow all implementation steps each year and, in time, the giant solution will fall far behind your actual business requirements?

End-to-End Customer Service Management Applications: These applications are focused on customer communication, providing an end-to-end resolution process management, monitoring & improving customer service and providing sustainability in customer satisfaction. Key functions include:

Designing an omnichannel communication platform
Designing issue resolution processes (both data and flows)
Execution of customer service automated workflows
Monitoring, analyzing and improving customer service quality
Comprehensive tools for collaborative communication and case management
next4biz End-to-End Customer Service Management
Management
next4biz is a process-based customer service management software. With automated workflows, you can define resolution actions for each type of customer issue. You can also monitor your customer service process and measure your performance and customer satisfaction with dashboards & reports.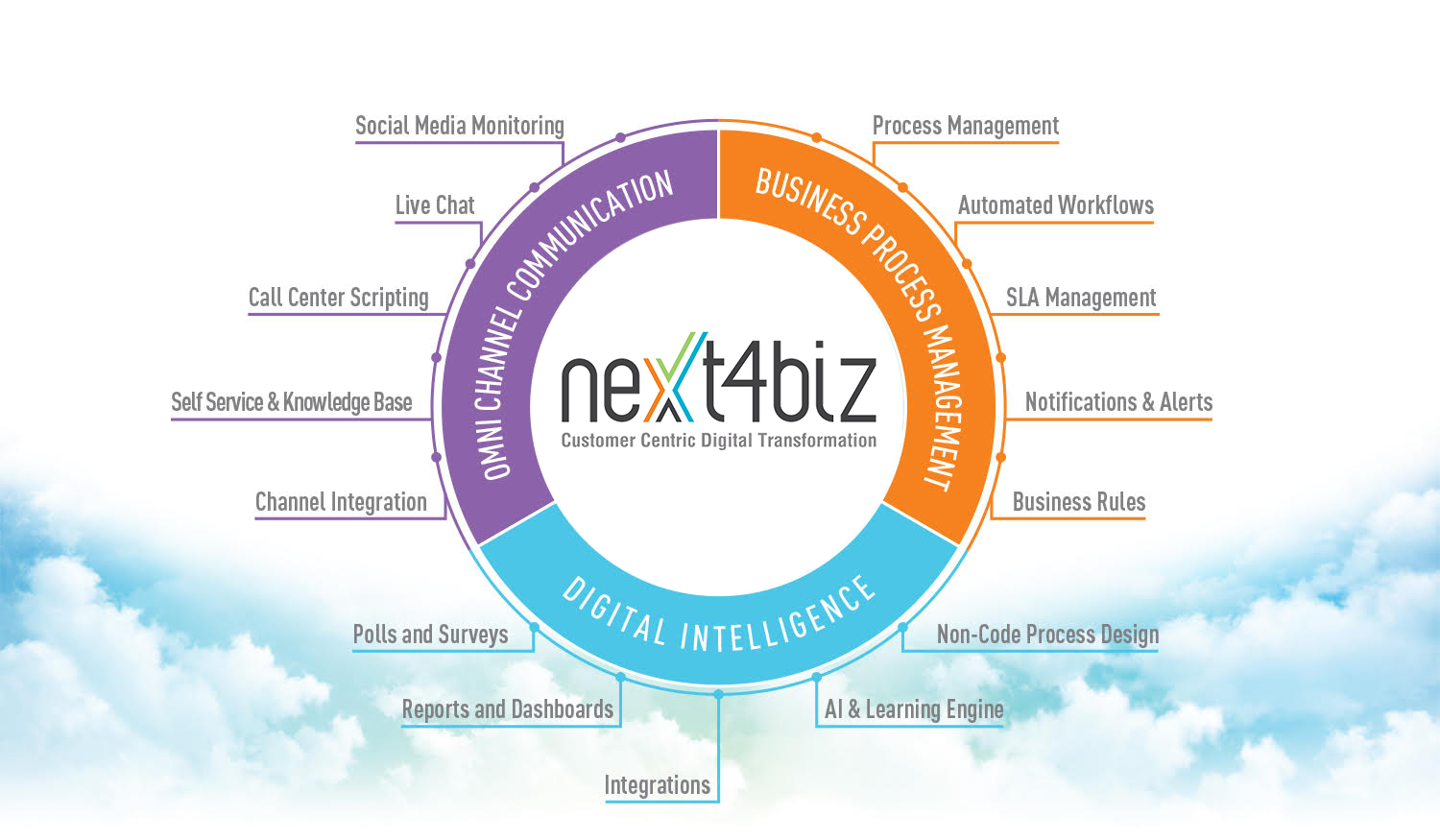 next4biz allows you to listen to your customers from all communication channels and manage their issues on a single platform. next4biz is a non-code platform that enables you to design customer communication and resolution processes yourself without requiring technical knowledge.
Our AI-enabled learning engine assists you in classifying customer issues and initiates the resolution process automatically.