The Importance of Reporting in Customer Service
next4biz provides a wide range of dashboard components and reports to analyze your customer service processes, identify the reason for complaints and monitor the system. With next4biz you can measure every aspect of your customer service, from the moment you receive the complaint to the closure of the issue. If you are pursuing ISO 10002 on customer satisfaction, you should consider that next4biz already has helped many companies.
Dashboards are supporting your strategic decisions and monitor the health status of your business. next4biz offers graphics, charts, gauges and other visual indicators that clearly show your KPI. You can analyze the distribution of the complaints in the last month, their status and their incoming channel.
You are able to personalize your dashboard to target a specific goal using various types of component using your metrics such as customer satisfaction, service levels, issues status and performances.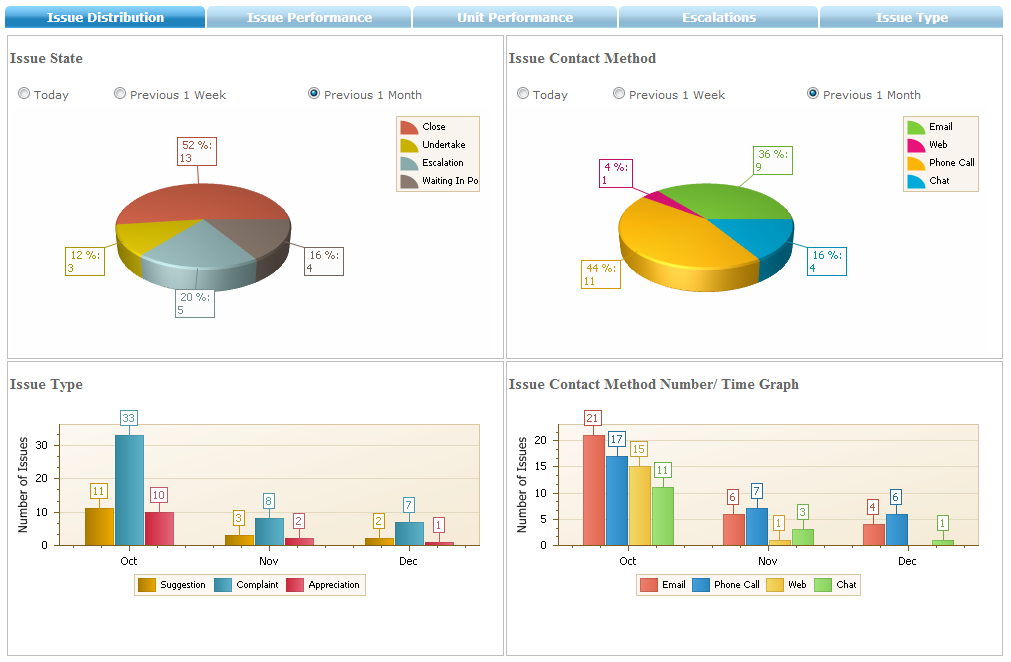 next4biz supports your organization in the day-to-day activities proposing different types of operational reports. In the top section of any report there is an area where you can set up the query parameters, while in the central part you can see the graphic representation of the data and below you have the table with numeric links. next4biz has the special feature to allow the reader to follow those links and see the elementary record. If you want to receive periodic reports, you can define your requirements in the configuration menu, choosing the type of report, the frequency and the exporting format.
Measuring our performances has never been more important, especially in this period where our customers are hyper-connected on mobile devices. One way to monitor your business is to use next4biz's performance control panel. For example, you can control response time, customer satisfaction in each category and the ongoing operations. From the dashboard pages you can control your internal organization, but also you can verify the quality of the services of your vendors.
In the call center, environmental sustainability is the art to match budget control with customer satisfaction. Especially in this period of crisis, customer experience can make the difference and let you win the competition. next4biz track every feedback received from your customers and provide detailed reports to your managers. In this way, your decision-makers have plenty of information, and they can take actions supported by numbers.
Having such a remarkable quantity of data means also being able to analyze the cost and benefit of your products and services. With next4biz in a short time, your organization will be aware of what the causes of complaints are, on which product and what the customer's expectations are. You can display the types of issues, their category and the related customer satisfaction.
Involving all the departments in the issue management is not only a matter of collaboration, but it will produce cost reduction and efficiency.
We already talked about the philosophy that drives next4biz: as a SaaS application, we want our customer to be free to personalize their working environment as much as possible. This approach is also valid for dashboards and reports because you will have the possibility to create new filters, customize the graphics and monitor every custom field you may have added in the customer service management.
With next4biz, your customer service management processes are compliant to ISO 10002 methodology and quality standards:
Planning is simple: You can define any process designing workflows, steps and time limits.
Executing is consistent: Because every type of issue has its own procedure and deadline.
Verification is immediate: Dashboards and reports are always available

to monitor every aspect of the business

.
next4biz offers business intelligence tools that support your management to run the business efficiently, monitoring costs and improving customer satisfaction. We designed next4biz keeping in mind an old management rule: "If you can not measure it, you can not manage it".