In the sales and marketing field, two of the most confusing yet important sales activities are lead generation and prospecting. These terms are often used interchangeably. Both activities should be at the center of the business culture of a sales organization, and both require a consistent effort by the organization to reduce the risk of depleting its customer resources. These tools are the most effective strategic methods for reaching customers, especially for organizations with a sales-hunter mentality.
What Is a Lead?
A lead is a person that is within the company's target audience and has a high chance of becoming a customer. The lead audience is a group composed of persons that may purchase and/or require goods and services provided by an organization.
What Is Lead Generation?
Lead generation is the process of identifying potential buyers for the goods or services of an organization and attracting their attention and interest in them. From this perspective, it is the first step in the sales process and it is critical for all companies that aim to grow their customer database and sales revenue. The purpose of lead generation is to find persons or organizations that require or are interested in a product, and then, through a preliminary evaluation, turn the prospects with the highest chance of making a purchase into qualified leads.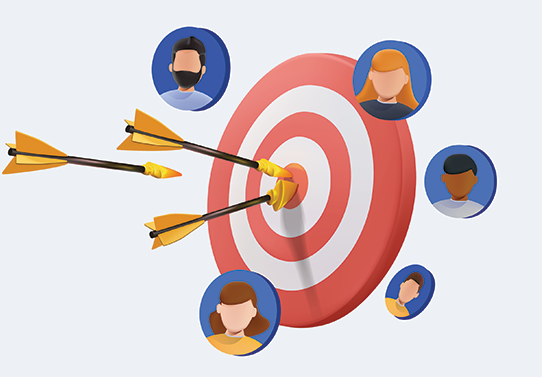 Lead generation can be done through both online and offline methods, such as networking events, expos, email campaigns, content marketing efforts, social media ads, and search engine optimization. The lead generation process can include activities such as content creation and distribution, discovering contact information, calibrating leads, and keeping in contact with them until the purchasing stage.
The larger your lead audience, the greater your potential income and long-term growth potential.
What Does Prospecting Mean?
Prospecting is the process of actively searching for leads and identifying potential buyers of the company's products or services. It is a proactive approach to lead generation and usually involves cold calls/visits or reaching out to specific persons or organizations via email, social media, etc.
Lead prospecting is the most critical step in the sales process, as it helps to define the leads that have the highest chance of buying the company's products or services. It is also the most effective way for enterprises to create a streamlined "production line" of leads for their long-term growth plans.
Prospecting consists of activities such as looking for leads, identification of key decision-makers, making phone calls to set appointments with leads, reaching leads via email or direct messaging, and identifying lead prospects according to their level of interest or participation.
Lead prospecting helps businesses to identify potential customers and thus secure sustainable business revenue. It is also a guarantee of long-term growth and allows brands to be more strategic and targeted in their efforts, leading to higher conversion rates and more effective ROI.
What Are the Differences Between Lead Generation and Prospecting?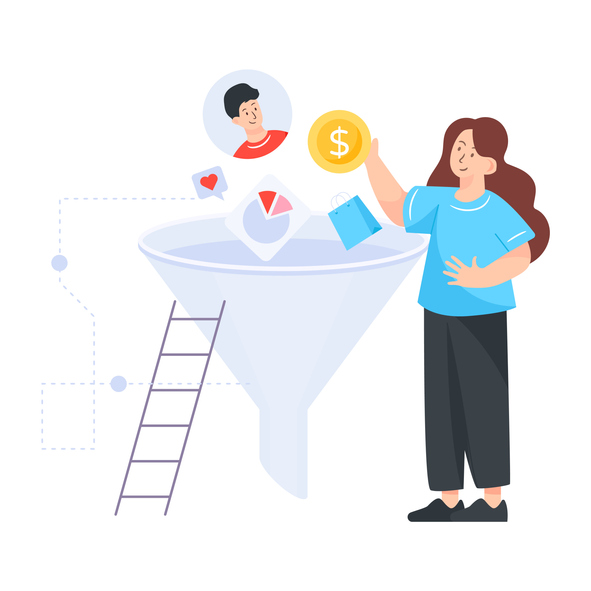 Lead generation and prospecting are complementary facets of the sales process, but they refer to slightly different activities.
Lead generation is the process of identifying leads for a company's products or services and is based on the principle of attraction. It usually involves generating content and distributing this content according to a strategic plan, capturing the prospective customer's interest based on their communication preferences, and calibrating leads. The purpose of lead generation is to find real or legal persons that require or have an interest in a product or service and then turn them into eligible candidates to purchase that product or service.
On the other hand, prospecting is the process of actively searching for and identifying leads. It is a more concrete, goal-oriented approach to lead generation and usually involves reaching out to certain persons or organizations directly via phone calls, email, or direct messaging. The goal of prospecting is to find new potential customers and leads that cannot otherwise be reached through research methods.
In summary, lead generation is the process of finding and attracting potential customers, while prospecting is the process of actively seeking and identifying new leads. Both of these are critical sales activities in finding new leads and increasing revenue, and they are equally important for this reason.
What Is the Importance of Lead Generation and Prospecting in Sales?
As we have established, lead generation and prospecting are important parts of the sales process, as they help the enterprise to identify and target the potential customers that have the highest chance of buying their goods or services. Without a steady flow of leads, a sales team can't hit its targets and increase business revenue.
Here are a few key reasons why generating leads and finding customers is important for sales:
Increased Revenue: Enterprises can increase their chances to make more sales and acquire more revenue by identifying and targeting leads and actively reaching out to those leads.
Cost Optimization:Generating leads through online methods such as content marketing and paid digital marketing is much more cost effective than above the line advertising and promotional activities. Moreover, the capacity to measure the impact and results of digital marketing activities enables more rational decision-making regarding the return on investment in this area. Additionally, enabling the sales team to target the most promising leads directly can be more cost effective compared to traditional methods.
Being Target Oriented: Lead generation and focused prospecting ensure the company focuses its efforts on the most promising leads instead of wasting time and resources on unqualified potential customers.
Sustainable Growth: A strong lead generation strategy leads to the creation of a sales pipeline of potential customers for the long-term growth and development of the business.
Competitive Advantage: Successful lead generation practices allow a business to s0,tay ahead of the competition in its market by continuously identifying new potential customers.
Institutionalizing the Sales Process: Prospecting allows for the creation of an institutionalized sales process in which all steps are defined by identifying the leads in the first stages of the purchasing process and supporting them until they are ready to make a purchase.
Generally, prospecting is a vital part of the sales process that helps enterprises to identify and target potential customers, increase revenue, and direct long-term growth. It enables the sales team to work more strategically and in a goal-oriented manner, leading to higher conversion rates and a higher return on investment in sales and marketing.
What Are the Most Effective Lead Generation and Prospecting Methods in Business-to-Business (B2B) Sales?


Since fewer customers are targeted in corporate (B2B) sales than in individual (B2C) sales, B2B sales need to be much more focused on finding and retaining the right customers. In B2B sales, it is especially important to do more in-depth research to identify the decision-maker on behalf of the legal customer and to gain more information on the organization's purchasing procedure. Below, you can find the most common methods of lead generation and identification in B2B sales: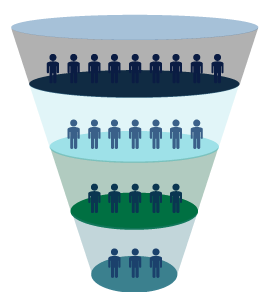 Creating a Network: Building new relationships through industry events, marketing expos, conferences, meetings, and professional associations and sponsoring these activities will help you connect with potential leads.
Social Media: You can use the advanced search features of social media platforms that are used for professional purposes, such as LinkedIn, to find potential leads that fit your ideal customer profile and connect with them. The direct messaging and sales navigator features of such applications are also highly effective for finding prospects.
Referrals: Referrals from current customers are the most effective way to reach new leads. All corporate executives know the managers that work in different companies in their sectors and know how they do business. Have your current customers be a conduit for you to reach new customers.
Content Marketing Activities: Creating content such as blogs, webinars, and e-books to share industry know-how may interest leads and can make your company a thought leader in your sector.
Email Campaigns: Email campaigns are among the most effective tools in the corporate sales field and have the potential to earn your business the maximum number of customers within the framework of permission marketing principles. The content you create for your campaigns to attract the attention of your target customer audience (by applying dynamic segmentation with your integrated CRM application) will not only generate traffic but also become the source of short-term sales visits.
Paid Advertising: You can use online advertising platforms such as Google AdWords, LinkedIn Ads, and Facebook Ads to target specific segments of your audience. You can reach a huge audience with digital ads, which is typically the area that requires the most improvement from today's sales professionals. By tracking the digital behaviors of your audience, you can be more active in digital interaction networks (with remarketing activities).
Cold Calling: While it is seen as a traditional method, cold calling still works; having phone calls with leads is still being used as an effective way of creating new business.
Keep in mind that the best method will depend on your sector, target market, and sales targets. For this reason, you should try different strategies and continuously develop your practices to find the most effective method for your enterprise.
What Is the Role of CRM Software in Lead Generation and Prospecting Activities?
CRM (Customer Relationship Management) software is a tool that helps businesses manage their interactions with their current and potential customers.
It is commonly used in lead generation and prospecting to facilitate and automate the process of identifying, attracting, and engaging leads. Here are a few ways to ensure that your CRM software supports lead generation and customer research:
Communication Management: CRM software, by allowing enterprises to store and edit communication information for leads and prospects, facilitates monitoring and managing omnichannel interaction with leads. To do this, the CRM platform you use must be able to integrate with all communication channels and all external applications and systems that your customer is in. Additionally,keeping the data (gathered from all sources) in separate customer cards for each customer after the data has been deduplicated directly determines the productivity of sales and marketing activities.
Tracking and Supporting Leads: CRM software helps enterprises to track the improvement of potential leads via sales channels and determine which leads have a high chance of turning into customers. Also, it allows enterprises to create automated email and communication campaigns to support leads by keeping them informed.
Digital Behavior Analysis and Event-Based Automatic Responses: By automating the tracking process, CRM software increases the chance of conversion by sending leads automated emails, text messages, or push messages at the right time.
Making Sales Predictions: A good CRM platform, by following the positions of the leads and prospects in the sales funnel (sales pipeline) step by step, helps enterprises to predict their sales revenues according to their sales steps and make more rational decisions on future sales and marketing strategies. Designing customized sales processes through a sales-oriented CRM ensures the identification of steps to be taken for the leads to pass from one sales phase to the next.
Potential Customer Scores: CRM software helps enterprises to prioritize customers with high potential by scoring them with statistical methods according to different criteria (e.g., behavioral responses, interaction types, commercial potential, the likelihood of becoming a customer, etc.).
Internal Coordination: CRM software improves communication and collaboration between teams by allowing different departments to access and share customer information. It also ensures that all activities related to potential customers are managed on a single platform within a task discipline.
Generally, CRM software has a critical role in generating leads and researching customers by helping enterprises to regulate, track, and manage their interactions with leads. It can increase sales efficiency, sales conversion, and closing rates, and it supports long-term sustainable growth.
Conclusion The sustainable success of an enterprise depends on its ability to improve the connections it has made with its current customers as well as its new customer acquisition rate. To ensure such success, in addition to engaging in continuous lead generation and institutionalizing your prospecting processes, you should focus on retaining your existing customers. As a technological solution, a high-quality CRM application is the most critical strategic solution platform for your business to achieve both of these goals.
Remember! Without customers, you'd be unemployed…