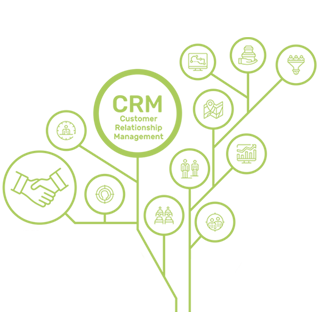 Customer Relationship Management
Business-to-Business (B2B) and Business-to-Consumer (B2C) marketers aim to capture the attention of two different target profiles. While there are many similarities between these two types of marketing, driving prospects from each channel requires different communication approaches in every aspect.
¬ View details
With next4biz, you can collect customer data from different sources, check for consistency, and correctness , eliminate duplicates and integrate seamlessly with your applications. You can also apply multi-dimensional segmentation by using your customers' information, tags and digital behaviors.
¬ View details
One of the essential facts for today's marketers to know is how wrong it is to treat all customers in the customer database in the same way. In particular, one of the expectations for marketing automation is the ability to design communication campaigns in a way that makes the customer feel unique.
¬ View details
You may already know your customer's gender, age, credit line, and last 10 purchases. These are traditional pieces of information that reflects the customer's physical appearance and behavior.
¬ View details
With the next4biz CRM module, you'll be able to: design your sales cycle and run your sales funnel; record meeting notes, phone calls, and emails; send your proposals and contracts; and track all customer activity, including digital behavior.
¬ View details

Customer Service Management
Omnichannel Customer Communication is one of the "must-have" features of new contact center technology. This new concept allows your company to interact with your clients via all channels. On top of the standard methods (telephone, email, web), your customers may contact you via the new media channels such as self-service, social media, or chat.
¬ View details
Do you have total visibility into your organization's end-to-end processes? Are every departments, employees and stakeholders are involved in related processes? Can you measure and improve your procesess? next4biz provides all your business process management needs with full transparency and visibility into your business.
¬ View details
Artificial intelligence is taking over call centers. Are you ready to transform your customer interactions and improve engagement with the AI and learning engine features of next4biz?
¬ View details
With next4biz, you can design and modify processes yourself without waiting for IT support, which means you don't need to design every single detail right away. Instead, you can continuously improve your processes. Therefore, you can implement immediately and have the results ready within a few weeks.
¬ View details
What if your customers could find answers on their own, and you could reduce your call center workload? next4biz's self-service knowledge base management can do just that!
¬ View details
Business Process Management
Low Code means that you don't have to code or have technical skills for process design. You can simply design your application interface and workflows from the design interfaces instead of undergoing complicated coding tasks.
¬ View details
Design your business processes in a guided framework without a technical knowledge. Next4biz provides wizards for data and workflow design. You can create your own reports and dashboards in seconds. You can test and simulate your changes in a design environment.
¬ View details
Rule Engine enables you to define action rules based on data values, user actions, and states of workflows.
¬ View details
BPM is the core application for process management, besides to create a better value, integrating with the corporate applications should be taken into consideration. Most of the time the flow of a process may require the machine to machine interactions in order to complete a task.
¬ View details
next4biz BPM enables you to monitor and control the process execution. In the process design, you can add alerts and notifications. For example, you can notify users of a newly assigned task, a delay or an escalation. You can also design dashboards and reports about process execution and performances. The next4biz reports allow you to drill down into the details to discover every aspect of what is happening within each flow.
¬ View details
This site uses local and third party cookies, that help us to provide and improve our services. Deactivation of the cookies is possible by disabling them via your browser settings. In this case, functionalities and usage of the site may not work properly. If you want to find out more, you may access our privacy policy, defining acknowledgement for how gathered data is used. Unless you change the cookie settings, we will consider your acceptance and consent for the cookies.